Certified Pre-Owned Herman Miller Aeron® Chairs
Working from Home ? Treat yourself to a chair at a fraction of the cost!
The Classic, Award-Winning, Aeron® chair by Herman Miller® Designed by Bill Stumpf and Don Chadwick is available at a fraction of the cost.
These Certified Pre-Owned Aeron ® chairs have been refurbished by Herman Miller ® factory trained technicians. Comes with a 30 day satisfaction guarantee.
• Shipped KD FOB Warehouse
• Inventory Upon Availability, Please inquire
• No quantity discounts available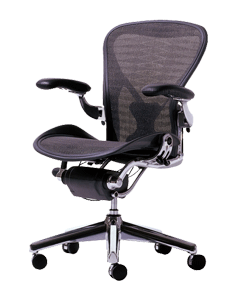 Features:
This chair has Pellicle material which conforms to the user's body and retains its original shape when unoccupied. The material is lightweight and breathable and distributes the user's weight evenly over the seat and back of the chair. The kinemat tilt lets the body naturally pivot at the ankles, knees and hip.
Specifications:
Mesh Color:
Classic Carbon
Frame Color:
Graphite Frame/Graphite Base
Model:
Adjustable w/Rear Tilt Lock, Forward Tilt Adjs & Lumbar Pad
Arm Type:
Adjustable Arms, Height & Pivot –Graphite Frame
Armpad Finish:
Black Vinyl
Casters:
Standard Carpet Casters
Size:
Choose: A (Small), B (Medium) or C (Large)
see size char
Price:
$989.00
$678.00
each
Aeron Diagram

The A-size chair, which adjusts lower than the other two, is suitable for smaller people
The B-size chair will fit most people..
The C-size chair, with its more generously sized seat and backrest, is suitable for larger people. Find yourself in the height and weight chart alongside to see which is the right chair for you.
Size A
Seat Height: 16-20.5″ or 40.6 cm - 52.1 cm
Seat Width: 19″ or 48.3 cm
Seat Depth: 15.75″ or 40 cm
Overall Height: 41″ (max) or 104.1 cm
Overall Width: 25.75″ or 65.4 cm
Size B
Seat Height: 16″-20.5″ or 40.6 cm - 52.1 cm
Seat Width: 20.25″or 51.4 cm
Seat Depth: 17″ or 43.2 cm
Overall Height: 42″ (max) or 106.7 cm
Overall Width: 27″ or 68.6 cm

 

Size C
Seat Height: 16″-20.5″ or 40.6 cm - 52.1 cm
Seat Width: 21.625″or 54.9 cm
Seat Depth: 18.5″ or 18.5
Overall Height: 45″ (max) or 114.3 cm
Overall Width: 28.25″ or 71.8 cm