Herman Miller New Aeron® Chairs!
Fully Adjustable Arms
Very Low Prices!
email us for
pricing... NOW AVAILABLE!
Herman Miller Aeron Chair Features: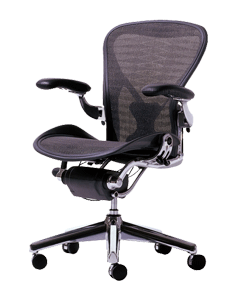 This chair has Pellicle material which conforms to the user's body and retains its original shape when unoccupied. The material is lightweight and breathable and  distributes the user's weight evenly over the seat and back of the chair. The kinemat tilt lets the body Kinemat tilt lets the body natural  pivot at the ankles, knees and hip.
The Aeron® Chair comes in three sizes: (A) Small
(B) Medium
(C) Large
(*see size chart below)
Aeron Diagram

The A-size chair, which adjusts lower than the other two, is suitable for smaller people
The B-size chair will fit most people..
The C-size chair, with its more generously sized seat and backrest, is suitable for larger people. Find yourself in the height and weight chart alongside to see which is the right chair for you.
Size A
Seat Height: 16-20.5″ or 40.6 cm - 52.1 cm
Seat Width: 19″ or 48.3 cm
Seat Depth: 15.75″ or 40 cm
Overall Height: 41″ (max) or 104.1 cm
Overall Width: 25.75″ or 65.4 cm
Size B
Seat Height: 16″-20.5″ or 40.6 cm - 52.1 cm
Seat Width: 20.25″or 51.4 cm
Seat Depth: 17″ or 43.2 cm
Overall Height: 42″ (max) or 106.7 cm
Overall Width: 27″ or 68.6 cm

 

Size C
Seat Height: 16″-20.5″ or 40.6 cm - 52.1 cm
Seat Width: 21.625″or 54.9 cm
Seat Depth: 18.5″ or 18.5
Overall Height: 45″ (max) or 114.3 cm
Overall Width: 28.25″ or 71.8 cm