Axiom 25
Translucent:
White (AX25WH)
Beige (AX25BE)
Gray (AX25GY)
Charcoal (AX25CH)
Earth (AX25EA)
Basic Uses
Surface Preparations
Clean and dry surface so it is dust-free, frost-free and soap-free. Clean surfaces only with denatured alcohol making sure surface is dry.
Sealing sheets and strips for bathtub and shower surrounds
Other wall applications
Fastening and sealing windowsills
Fastening and sealing side and backsplashes to kitchen countertops and vanities
Hygiene seals in refrigeration and food preparation areas
General industrial use
Features

Excellent gunnability throughout a wide temperature range -35° F to 160° F (-37° C to 71° C ). Excellent unprimed adhesion to most common non-porous substrates.
Long product life expectancy.
Highly resistant to ultraviolet light, ozone, moisture, mildew, and extreme temperature variations.
Dry tools easily to a smooth, attractive finish.
Good tear resistance.
Excellent movement capabilities (+/-25° ).
Rubberlike properties are maintained throughout product life.
Service temperature range -65° F to 300° F (-54° C to 149° C).
Skins quickly.
No special cold storage requirements are necessary.
The Uniform Axiom 25™ Caulk Line
ITEMS REQUIRED
Axiom 25™ Translucent Silicone Caulk GunSpray gun containing denatured alcohol Square laminate chips with one corner rounded over Rags and/or paper towels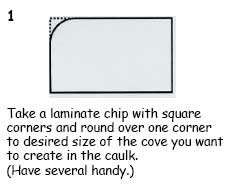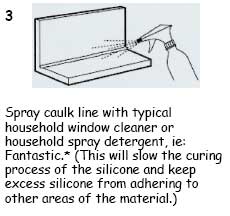 * By painted, or wall papered areas, use a liquid glass cleaner or a liquid cleaner instead.